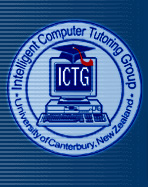 Intelligent Computer Tutoring Group, University of Canterbury, New Zealand

An Intelligent Tutoring System for Engineering Mechanics

Tanja Mitrovic, Charles Fleischmann, Brent Martin, Pramudi Suraweera

In 2006, the Intelligent Computer Tutoring Group (ICTG) received an HP Technology for Teaching grant to encourage the transformation of learning and teaching. We are using HP mobile technology to develop an Intelligent Tutoring System for Engineering Mechanics, which will improve students learning by providing individualized instruction, tailored towards the needs, abilities and knowledge of each student. The system will be used and evaluated in ENGR102, a course taught by the Civil Engineering Department at the University of Canterbury.
Rationale

ENGR102 is a large course, typically involving about 600 students, which is currently taught using traditional means. The students attend lectures in three streams. Tutorials are organized with one tutor communicating with a full classroom of students. In tutorial, the students study solved problems, and are given homework consisting of similar problems to solve on their own. In this kind of instructional setting, there is no opportunity for a student to get individual feedback from the tutors/lecturers.

Implementation (pedagogy)

Our goal is to improve students problem solving skills by providing students with an environment which will analyse the studentís solution, maintain a model of his/her knowledge, and provide individualized feedback and support to the student. Within ICTG, we have already implemented a number of constraint-based intelligent tutoring systems (ITSs), which have proven to increase students learning significantly. Our experiences show that students are highly motivated when learning with ITSs, and achieve significantly higher results in exams. For more information about our tutoring systems, please see the ICTG home page.

Implementation (technology)

The system is a problem-solving environment. We assume that students wil be familiar with the domain from lectures. The ITS offers many practice opportunities to students. When solving problems, the student first draws the force diagram starting from the problem text. The system checks the diagram, and provides feedback on any errors. Once when the diagram is correct, the student can start computing the unknowns, by selecting an equation to use, replacing the known into the formula, and calculating the value. The system evalautes the student's solution and provides feedback on each step. The ITS is being developed in ASPIRE, an authoring system that ICTG has developed. More information about ASPIRE is available here.

Impact on Student Learning

The skill we are addressing is being able to solve problems in mechanics. After interacting with the proposed system, the students will be able to:

Draw the force diagram
Select a goal for the next step
Select a formula to use in order to compute a necessary unknown
Substitue known values into a chosen formula
Perform calculation
Know when the problem has been completed
On a higher level, relate problem-solving skills to declarative knowledge

The planned evaluation will focus on the following questions:

Is the developed ITS effective?
Does it support learning better than the traditional approach?
Does the system increase studentsí motivation?

We will compare performances of two groups of students. One group will learn the material in the traditional way, via lectures and tutorials. The other group will attend lectures, but the tutorials would be replaced by interaction with the system. Time will be controlled. We will require students to sit pre- and post-tests, to measure their knowledge. We will also collect data about their actions while solving problems, and analyze the data.

Quick Facts

Courses Impacted: ENGR102 Engineering Mechanics
Students Impacted: 600
Faculty Involved: Prof. Antonija (Tanja) Mitrovic, Dr Brent Martin, Dr Charles Fleischmann
Keywords: engineering

Contact Us

Tanja Mitrovic (tanja.mitrovic@canterbury.ac.nz)
Brent Martin (brent.martin@canterbury.ac.nz)
Charles Fleischmann (charles.fleischmann@canterbury.ac.nz)

Publications

Mitrovic, A., Martin, B. & Suraweera, P. Intelligent Tutoris for all: the constraint-based approach. IEEE Intelligent Systems, vol. 22, no. 4, 38-45, July/August 2007.
Mitrovic, A., Ohlsson, S. Constraint-Based Knowledge Representation for Individualized Instruction Computer Science and Information Systems, vol 3(1), 1-22, June 2006. (pdf)
Mitrovic, A. and the ICTG team Large-Scale Deployment of three intelligent web-based database tutors. Journal of Computing and Information Technology, vol. 14, no. 4, 275-281, 2006. (pdf)
Mitrovic, A., Suraweera, P., Martin, B., Zakharov, K., Milik, N., Holland, J. Authoring constraint-based tutors in ASPIRE. M. Ikeda, K. Ashley, and T.-W. Chan (Eds.): ITS 2006, LNCS 4053, pp. 41-50. (pdf)
Baghaei, N., Mitrovic, A. A Constraint-based Collaborative Environment for Learning UML Class Diagrams. M. Ikeda, K. Ashley, and T.-W. Chan (Eds.): ITS 2006, LNCS 4053, pp. 176-186, 2006. (pdf)
Suraweera, P., Mitrovic, A, Martin, B. The role of domain ontology in knowledge acquisition for ITSs. In: J. Lester, R. M. Vicari and Fabio Paraguacu (eds) Proc. 7th Int. Conf. Intelligent Tutoring Systems ITS 2004, Springer-Verlag LNCS 3220, pp. 207-216, 2004. (pdf)
Suraweera, P., Mitrovic, A. An Intelligent Tutoring System for Entity Relationship Modeling Int. J. Artificial Intelligence in Education, vol. 14, no. 3-4, 2004, 375-417.
Martin, B., Mitrovic, A. Domain Modeling: Art or Science? In: U. Hoppe, F. Verdejo & J. Kay (ed) Proc. 11th Int. Conference on Artificial Intelligence in Education, pp. 183-190, 2003.